Toni V. Fell Prize
Based at the Royal Academy of Music, this annual competition is open to the Music Theatre Course students. The competitors perform a speech leading to a song.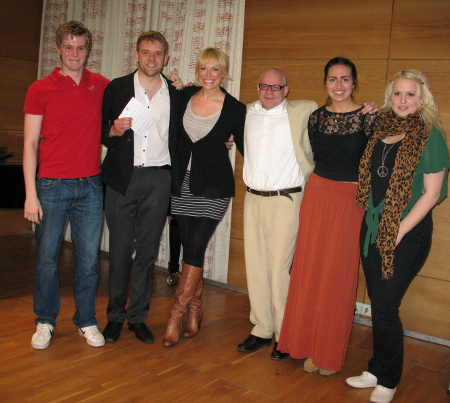 The Toni Prize 2012:
Adjudicators Hannah Waddingham & Gareth Valentine in the middle
with Howard Jenkins, James Hume, Louisa Roberts & Ulrika Bystrom
Recipients:
2008
Owain Williams
2009
Jack Summers
2010
Alex Young
2011
Dom Hodson
2012
James Hume (1st prize)
Howard Jenkins (2nd prize)
2013
Joe Leather (1st prize)
Alex Spinney (2nd prize)
Beth Peach-Robinson (3rd prize)
2014
Guy Hughes (1st prize)
Boris Alexander (2nd prize)
Richard Brindley (3rd prize)
2015
Aleshia Aires (1st prize)
Karoline Gable (2nd prize)
Toby Hine (3rd prize)
2016
Charlotte Clitherow (1st prize)
Fransisco del Solar (2nd prize)
Elissa Churchill (3rd prize)
2017
Sherelle Kelleher (1st prize)
Muirgen O'Mahony (2nd prize)
Martha Pothen & Jamie Chidzey (joint 3rd prize)
2018
Nesah Gonzales (1st prize)
Philipp Nowicki/Janne Snellen & Natalie Dunne (joint 2nd prize)
Kelly Sweeney & Henry Arber (joint 3rd prize)
2019
Yasmeen Audi & Robert Madge (joint 1st prize)
Lily Kerhoas & Connor Jones (joint 2nd prize)
Eliza Waters & Paris Paraskevadis-Planets (joint 3rd prize)
2020
Tom Blacket (1st prize)
Samuel Sarpong-Broni (2nd prize)
Catrin Mai Edwards (3rd prize)
- All prizes awarded during the 2020 pandemic
were for the most vocal progress, with other prizes
awarded for acting.